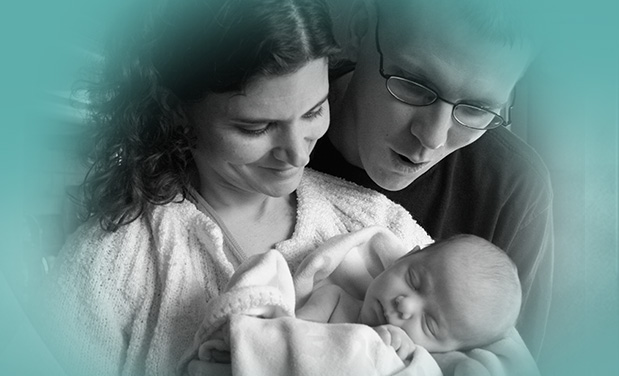 Our guest policy is based upon each mother's personal choice, needs, and wishes.
To Our New Mothers
At Memorial, you determine who visits and when. Our mission is to create a partnership between you, your family, and your healthcare team to provide you with the birthing experience you envision. We have created guidelines to support your decisions and to safeguard the health and security of your growing family.
You will have the opportunity, in consultation with your nurses, to make a plan for your hospital stay that includes time for rest and recovery, support for infant care and feeding, and bonding. There will be ample opportunity for introducing the newest member of your family to extended family and friends. We encourage you to prioritize your preferences during the first few hours of your baby's life.
Please inform your nurses of your daily guest requests. You may request that no guests be allowed during a designated time or ask to be called in your room when guests arrive. For visits that are declined, we will provide the opportunity for guests to leave a brief note.
Newborns are more susceptible to infection because their immune systems are immature and have never been exposed to illnesses. Please remind your guests to wash their hands thoroughly before interacting with your baby. This will help protect your baby from infection.
General Visitation
We recognize that family and friends are important, but we must safeguard the health and well-being of our moms and their newborns. Individuals with flu-like illnesses will not be permitted to visit Memorial Family Care Birthing Center. Flu-like symptoms include a fever and one or more of the following:
Dry cough
Sore throat
Runny or stuffy nose
Headaches
Extreme tiredness
Muscle aches
Family and guests who have been exposed to or have manifestations of communicable diseases for which the newborn is at particular risk (influenza; rash; fever; impetigo; active tuberculosis; acute respiratory disease; as well as vaccine-preventable diseases, such as measles, mumps, whooping cough, and chicken pox) are not permitted to visit.
Grandparents, significant others, and siblings are welcome to visit any time provided they do not exhibit flu-like symptoms. Because a newborn's immune system is not fully developed, we ask that only individuals who are free from illness visit the unit.
Guests, other than immediate family, are welcome during regular visiting hours from 11 a.m. to 9 p.m. Children other than siblings under the age of six years are not able to visit based on local and state regulations.
Our mission is to provide our moms, families, and guests with a considerate and compassionate environment of care. Our expectations of respect extend to other guests, hospital staff, hospital furnishings, and property. For the safety of others, we reserve the right to restrict visitation if these expectations are violated.
Information for Your Visitors
Visits from family and friends reflect a loving community of support, which is important to every new family. We would like to offer some ideas to your visitors.
At the hospital:
Consider keeping your visit brief, about 15 minutes. This has several benefits: new parents will be less exhausted; nurses can spend more time teaching infant care, and babies can be fed when hungry. Feeding is a learning experience for both baby and mother and can be difficult with a room full of people.
At home, when you call or visit:
Ask how the parents are doing, as well as how the new baby is doing.
Offer lots of words of praise for the good job they are doing. All new parents need support in the hard work of taking care of their baby.
Stress to parents that this is their special time to "be taken care of" by others; they should not have to care for anyone but the baby.
It is usually best to offer advice only when asked for it. New parents get so much advice they often feel overwhelmed. Support them as they learn about their roles and this new and unique baby. They will really appreciate knowing you support their decisions about how they care for their baby.
If concerns are expressed about the health of mom or baby, encourage the parents to call their doctor for guidance.
We hope these suggestions are helpful to you. All new parents need to know others care about their family.